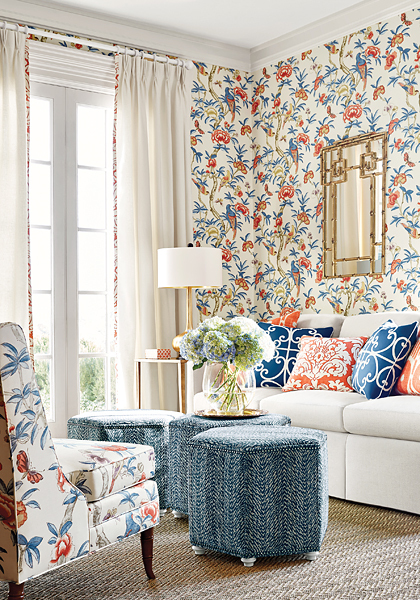 5 Home Interior Design Trends to Watch Out For in 2020
1st January 1970
It's not just a new year that is coming up, but also a completely new decade. The year 2020 is just around the corner and it's already showing us signs of brilliance.
From fabulous fabrics to fantastic furniture, there is more than enough reason to say goodbye to the old and say hello to the new inspiring interior design trends.
Incredible Interiors
A brand-new year brings about a lot of changes. Aside from personal resolutions, you may also want to see a change in the people and places around you. One of the most common things that get a dose of transformation is the home space.
Whether this space is big or small, there always seems to be an unexplained feeling of joy that comes with seeing one's own home changed for the better. It doesn't even matter if you just installed new flooring or completely renovated a whole section of your house; the feeling of buoyancy is undeniable. It can be truly uplifting to turn something old into something new for that much-needed fresh start for the new year.
So as we say farewell to tribal prints, statement ceilings, and Living Coral (Pantone's previous color of the year) – trends that have ruled 2019 – let's prepare our smiles as we welcome all the fashionable and up-to-the-minute trends that will shape the interior spaces of 2020.
Get ready with that swatch of awe-inspiring home wallpaper, dial the number of your trusty interior designer, and gather the whole family for an intense discussion on which of your old belongings will stay and which ones will need to fly away.
Here are some of the interior design trends that will dominate the interior halls and spaces of 2020:
1. Brilliant Blue
The Pantone Color Institute – one of the influential voices when it comes to aesthetics – has announced that Classic Blue is their Color of the Year for 2020. With this declaration, we can expect different shades and interpretations of this color.
As a new era begins, it is indeed a comfort to choose a color that is familiar to most, if not all, of humankind. Fortunately for those who stick to the trends, blue is a versatile color. It can provide a sophisticated backdrop to other interior design pieces or an elegant accent that adds a royal touch.
From indigo skies to azure waters, the variations of the color blue are almost limitless. While some purists will stick to the classic, some may push the envelope and opt for more adventurous shades. So whether you choose to use navy as your statement wall or add touches of cobalt to your kitchen counters, blue is a pigment that will evoke feelings of calm, serenity, and productivity.
2. Comfy Fabrics
If you're one to cuddle up in a corner with a good book, then this year is the best time to invest in cozy fabrics. Go for imperfect leather, shearling, or soft and textured mohair fabrics that can be used as accents for your favorite chair or window seat.
Not only are these comfy fabrics fantastic to use as snug embellishments in your interior space, but they can also be used as upholstery fabrics for chairs, sofas, or pillows. You can also use fabrics to dress up your walls and windows. Experiment with colors and prints to get maximum impact and enjoyment. For example, mellow yellow tones give a pop of life when combined with neutral tones of beige or gray.
Choose fabrics that are simply delicious to touch and that luxuriously caress your skin. More importantly, go for upholstery textiles that are pretty but also practical. There are fabrics available in the market that are machine-washable or pre-treated to repel stains. There are even flame-retardant ones, too.
3. Curvy Furniture
Curvaceous couches, curved cocktail tables, or a slinky art piece or two – these rounded furniture pieces can greatly soften the look of your interior space. For 2020, you can do away with sharp lines and severe corners. Instead, go for undulating lines and stylish curves that will give your area a sense of fluidity.
You can invest in a curved sofa or a round coffee table, or get a free-form kitchen counter as a statement piece in the middle of your dining area. Tastefully combine it with other trends such as touches of the color blue or the use of soft and snugly fabrics, and you can be sure to feel a reinvigorating vibe in your abode.
4. Flowery Wallpaper
If you want to brighten up your home as the year enters, then you can opt to install floral wallpapers. The vibrant designs of these blooms can greatly affect the mood of the room as well as its occupants. From elfin florets to giant flower heads, designs can range from the classic patterns to bold and daring options.
These floral wallpapers can significantly amplify the visual volume of your interiors such as the powder room, walk-in closet, or foyer. You can plaster it all around the room if you're using demure designs or choose a statement panel and stick on a plucky print.
5. Statement Floorings
If you're tired of walking the same floor for years, then 2020 gives you the chance to finally walk away with a new design inspiration.
Statement floorings will be in vogue, so you can start looking at a variety of options. Selections range from stylish carpet tiles, vinyl flooring, or wall-to-wall flooring solutions that can decidedly enhance a room's look and feel.
From dressing up your study's floor with bold patterns or mixing and matching colors and prints using carpet tiles, you can play with several designs that best suit your needs and budget. You can also opt to use large rugs or cover a section with artistic carpet tiling.
The Beauty Inside
Whether you're going for a soft look with floral wallpapers or you want to make a daring statement with avant-garde floorings, interior design touch-ups can greatly add to the excitement of welcoming a new year. What's more important, however, is your positive attitude and outlook so that no matter how big or small your interior design makeover project is, you will have that electrifying fervor to go through with it.
Get in touch with our team at NGC Nafees India today so we can begin discussing your home's transformation in the coming year.
References:
https://time.com/5744039/pantone-color-of-the-year-2020/

https://www.verywellmind.com/the-color-psychology-of-blue-2795815
Back to Blog