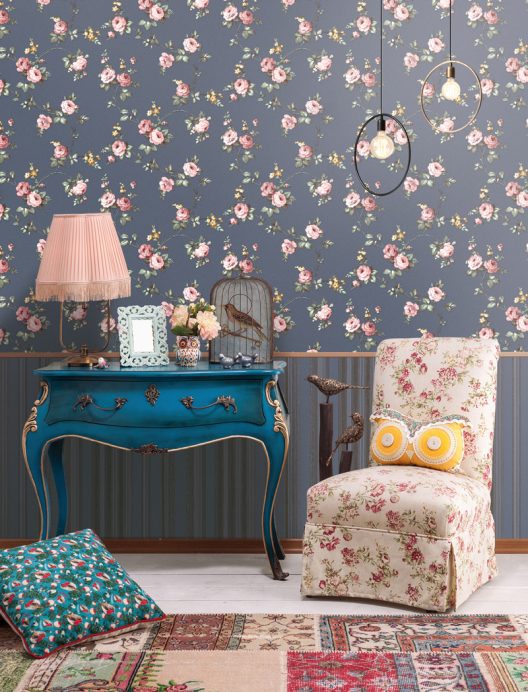 7 Most Anticipated Wallpaper Trends This 2020
1st January 1970
Underestimating the power of a well-picked wallpaper is a mistake you shouldn't make, especially if you work in interior design. After all, wallpapers serve more purposes than just adding flair to a room.
From visually correcting wall deformations to changing the dimension of the room, using wallpapers provides plenty of advantages. It can also add interest to the design, helping it effectively exude the personality of the individual living in the space.
Whatever your taste may be, there is a wallpaper that could match it. From artistic optical illusions and floral patterns to geometric and architectural designs, your options for wallpapers are endless.
To make sure that you pick the right one for your next project, here are the seven most anticipated home wallpaper trends you can expect this 2020.
1. Rekindling a Love for Chintz
When it comes to artistic fields like interior design, taking inspiration from past trends to influence current ones is not unheard of. In fact, we often look back on the eras of the past when we face uncertainty for the future.
This is the very reason why chintz is now making a comeback in wallpaper trends. Chintz, which typically describes glazed calico textiles or fabrics from India that are printed with flowers and other colorful patterns, offers just the right amount of style and sophistication when used as a wallpaper. It can even be used to create a focal point or "feature" wall in a room.
2. Going Back to Nature
Aside from bold floral patterns climbing your walls in chintz-style wallpapers, interior design authorities foresee more nature-themed wallpapers to dominate 2020.
People will welcome the new decade with an increased awareness of the current state of the planet's natural resources, which explains the increasing preference for sustainable and eco-friendly products. Wallpapers are no exception.
These days, when the desire to repurpose, recycle and repair has definitely become a goal for many, more botanical- and tropical-themed wallpapers are expected to be popular. Although we expect classic florals to remain a favorite, more people will go for bolder and more daring patterns. This is because more people want to bring nature into their homes and spaces, albeit through images printed on wallpaper.
3. Bringing a Room to Life with 3D
With love for all things natural rekindled, more people are expected to want more realism in their interiors. And what better way to fulfill their wishes than to use three-dimensional (3D) wallpaper prints?
With 3D wallpapers, you can make any room come to life. Because of this wallpaper's unique design, even ordinary pictures can live in the walls, offering a bold and edgy aesthetic to any room.
This trend is directed more towards contemporary home designs in 2020. Aside from adding a sense of realism, 3D wallpapers also offer added "texture" to the interior, ranging from lifelike waterfalls to realistic brick walls and jungles.
On top of that, 3D wallpapers offer an environment-friendly option for homeowners who have started to rethink the sustainability of the materials they use to beautify their homes. This alone is enough to make people go for 3D wallpapers without batting an eye.
4. Getting Bolder with Graphic
Since bold maximalism is the common trend we expected in 2020, it comes as no surprise that more graphic wallpapers will also take center stage. In this decade, anything boring that sits quietly in the background is no longer driving how we design our spaces; 2020 is expected to be a year of bold décor sensibilities.
At the beginning of the year, many designers seek a sense of structure and security amid chaos. This is the very reason why more and more people go for elemental geometric arrangements that are both structured and bold at the same time.
5. Graduating to Gradient
If you haven't come to terms with the maximalism trend that 2020 has to offer, then you might as well graduate from plain and boring neutrals to gradient hues. In wallpaper, this trend is expected to serve as a bridge between those who have more minimal tastes and the current trend leaning on more eye-catching décor because of its transitional nature.
6. Returning to Retro Art
Another loud-and-proud wallpaper design trend that will become popular in 2020 is retro art.
Although retro has always had a place in design trends, mid-century modern designs are making way for the older Art Deco theme popular during the 1920s. These luxurious and fun designs can be matched with warmer colors for a more comforting aesthetic while maintaining its glamour in the process.
7. Edging Away from Gray
After several years of dominating interior design, cool bluish-gray tones are beginning to make way for a new trend. In 2020, design trends are edging away from gray and leaning more on the warmer neutral tones like brown.
In wallpapers, this essentially means mixing together warmer-toned patterns. Matching classic florals and stripe patterns with exotic ones like kilims and ikats is also expected to be more popular this year. Just remember to stick to a complementary color palette to avoid overwhelming the space.
Choose Your Wallpaper
Picking a wallpaper can be daunting without prior knowledge about what's hot and what's not. Be sure to check out our showrooms at NGC Nafees India to find the wallpaper that best suits your taste.
Back to Blog