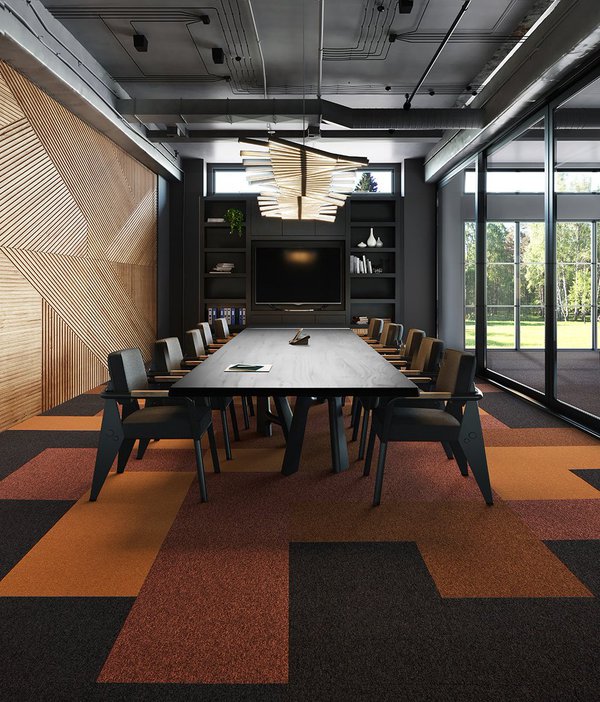 5 Benefits of Using Carpet Tiles as Floor Covering
1st January 1970
With the floor being one of the biggest, most noticeable and used surfaces in residential and commercial properties, you have to put careful thought into your choice of flooring material. Whether you are having your space built or remodelled, selecting a product based solely on appeal or price can be one of the costliest mistakes you can make.
This is primarily because your choice of flooring can affect the design and look of a room and your home or commercial space as a whole. It can also affect the functionality of the area.
Moreover, your floor covering will impact the level of comfort people will experience in the room. Top-of-the-line carpet tiles in India, for instance, are the best flooring options for bedrooms. You can walk around barefoot anytime without complaining about the cold and hard surface.
Additionally, your choice of flooring material can also have an impact on the health of the occupants of your home or commercial space. It can affect everyone's routine, as well. If you select a product that requires frequent cleaning and maintenance, the occupants may soon find these chores exhausting and lose interest in doing them.
As a result, your residential or commercial property can become untidy and lose its appeal quickly.
The Rising Popularity of Carpet Tiles
Carpet tiles, which are also known as carpet squares or modular carpets, are stylish, modern, and brilliant alternatives to standard carpet rolls. They are quickly becoming the top choice for both residential and commercial flooring needs due to the following reasons:
1. Quick Installation
One of the biggest benefits offered by carpet tiles is that these are quick to install. These are easy to put together and do not require the application of permanent glue or tack strips since they can be loosely laid.
Because of these reasons, the installation will go faster with little or no disruption to the space and occupants or other work taking place inside the premises.
Since the tiles are already pre-cut, the persons installing them won't need to cut them to fit the floor.
Additionally, since the tiles are smaller, they are easier to transport and handle. Storing extra supplies won't be too much of a hassle, too.
2. Exceptional Durability
Carpet tiles are made of the same materials as their roll counterparts. They undergo the same manufacturing process and, as such, are as durable as traditional carpets.
Carpet tiles can withstand heavy traffic even in the busiest spaces. Moreover, these have long lifespans. Because of these reasons, they are known as one of the best high performing flooring options around.
Also, most modular carpets have flexible backing. This extra feature makes these the perfect option for floors that are sure to receive plenty of regular wear and tear.
Some brands have the same capabilities of top-notch water-resistant carpets as well. This means that your floor will be protected from spills and accidental flooding.
3. Outstanding Versatility
Due to their shape and size, you can choose from unlimited layout options. There are also numerous designs, colours, patterns, and textures to choose from; because of this, you will have a floor covering that appeals to the eyes.
Your choice of product and layout can also reflect your personality or preference and the overall style of your property. Your floor, therefore, will complete and complement the design of your home or commercial space.
With carpet tiles, you also have the option of having these installed to cover the whole floor or to function as a rug.
Additionally, if you choose modular carpets as your flooring for your office or retail space, their versatility will allow the occupants easy access to the main floor — whether to install or check concealed cables or ducts.
Carpet rolls and other types of coverings do not offer this ease of accessibility.
4. Low Maintenance Requirements
Carpet tiles are easy to clean. These only require regular vacuum cleaning to keep the floor free from dust, dirt, and debris.
If you choose low pile modular carpets, you may even reduce the frequency of vacuuming since these tend to collect less dirt and dust.
In case a particular area becomes too heavily stained or dirty to clean, you can have it easily removed and replaced with a new tile. Your whole floor will be complete and look great again within minutes.
5. Sustainability Features
Most carpet tiles are made of recycled raw materials. Because of this, you are sure you will have an eco-friendly floor covering in your home or commercial space.
Since there is no need to cut the carpets during installation, you will avoid additional waste materials, too.
Moreover, when you need to have a particular area replaced, you don't need to get rid of the entire flooring. You only have to remove the stained tiles. This will help minimise waste as well.
Modular carpets are also reusable. If they no longer meet your requirements or preference in terms of colour, design, or quality of appearance, when you have them removed, the tiles will still maintain their shape and condition. Because of this, they can be refurbished and used in other properties. They can also be upcycled and used for other purposes.
If you want an aesthetically appealing floor that is easy to install, durable, versatile, and eco-friendly, choose carpet tiles as your flooring material.
Visit the NGC Nafees India "Flooring" page to see our extensive line-up of carpet tile products.
Back to Blog